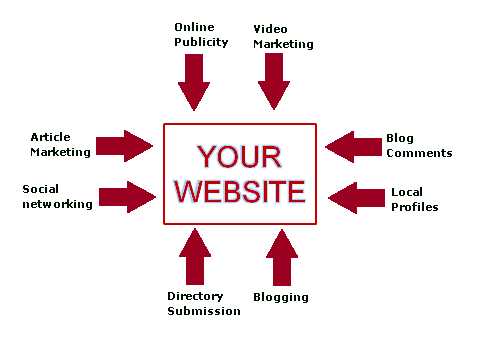 Website Optimization
Website Optimization is a technique which is used to upgrade the rank of your website in Search Engines by adding proper keywords and phrases and making onsite changes as per the guidelines laid down by the Search Engines.Website Optimization is also called as Search Engine Optimization.
The meaning of Optimization is to make as perfect , effective and functional as possible.
We take all the steps you need to take to be the fastest. In relation to the Website it means to get your traffic or your sales as fast and effectively as you can.
Our Process of Website optimization includes the following methods for your website:
Monthly or quaterly Reports
In keyword management we focus on including accurate keywords for your website so that the user easily finds you when he is looking for you. Our SEO specialist are well trained and have high understanding of selecting SEO friendly keywords.
What happens when user enters a word in any search engine?
Whenever a user enters a word matching to his search (known as Keyword) on a search engine a list of top ten sites related to the keyword appears. Mostly user finds it's solution from the first page itself. Rarely a user moves to the second page of results. We aim at bringing your site among the top ten website lists.
Content management is a on-site SEO technique. We manage your content in such a way that it included maximum number of SEO terms which leads to high tremendous uplifting of your SEO popularity.
Sometimes the SEO experts tend to concentrate only on the overall look of your website and its content and often ignore the most important parameter of a website that are its images. But we at nliven take care of Image Optimization too because they also play a very important role in SEO optimization or Website Optimization. We do this by including the most suitable and relevent image title and its description.
We have a very clean and white hat SEO process that can be monitored anytime. We send our clients monthly or quaterly reports as desired by the client regarding the progress of their website. The reports includes the number of visitors on the site and the time spent on the website. In this way our client is able to view the gradual process of the increase in the number of visitors of the website.
Website optimization is a very slow and steady process because no website can gain popularity overnight.
Website gaining popularity overnight use automated SEO tools that are unacceptable and against the SEO standards.
Website Optimization service as offered by us involves the updating of your website in order to make it the most visited site on the popular search engines like Google, Yahoo, Bing etc.
We transform your old website and provide a newer version of it which is highly efficient and functional in view of search engines.
We ensure you a high ranking website which will act as a lucrative asset in increasing your sales.
This is possible by inserting the most accurate keywords searched by the user, editing meta tags, image tags and optimizing other components.
We follow all the necessary and legal steps which improves the website performance thereby increasing the Website Ranking.
We also focus on the on site optimization. This is done by structuring your site in the most attractive way so that it captures the visitor's attention at once.